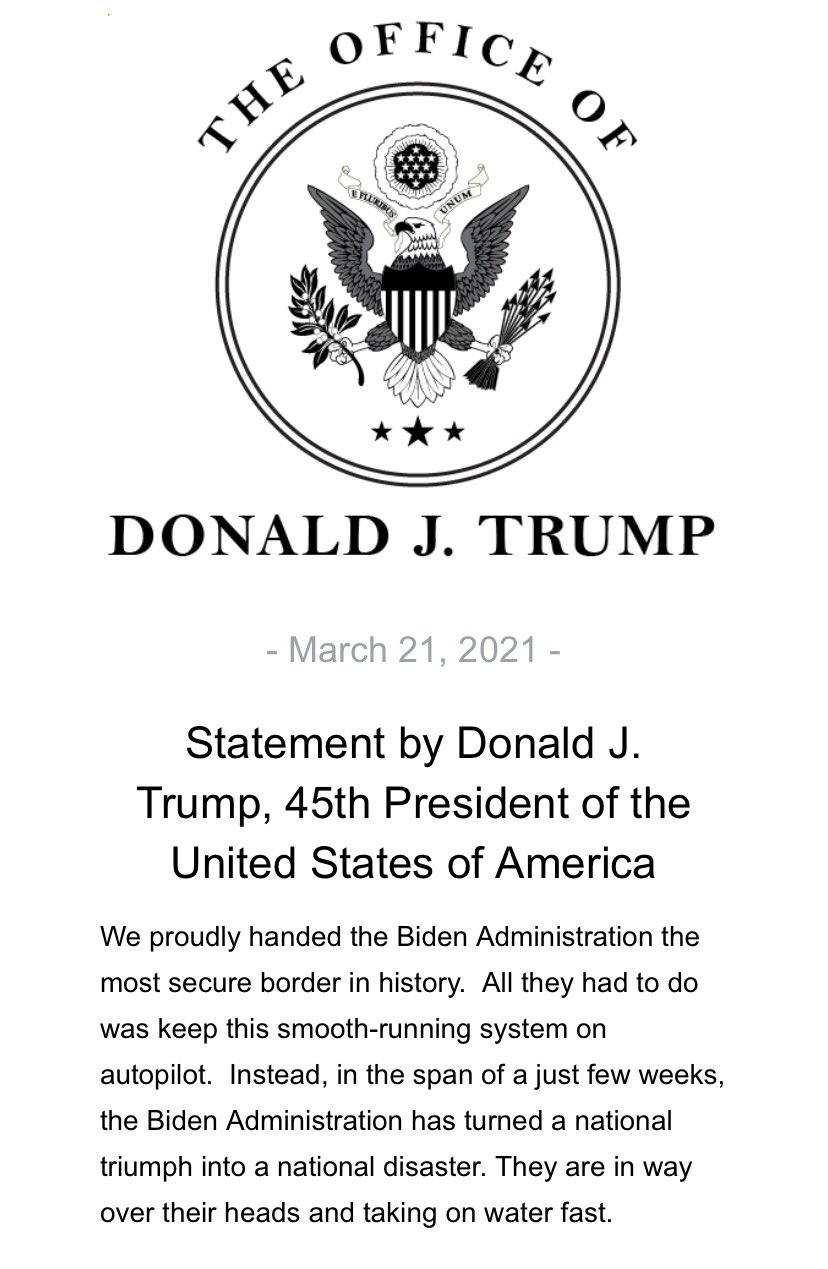 In a related story…
FoxNews.com reports that
Fox News confirmed Sunday that Border Patrol agents in the Rio Grande Valley Sector (RGV) have begun to process and release illegal border crossers who claim asylum without issuing a Notice to Appear (NTA) – allowing them to depart custody without scheduling a court date for a hearing.

The unprecedented move places the responsibility of seeking an asylum hearing on the migrants through Immigrations and Customs Enforcement (ICE) or legal assistance.

Multiple Border Patrol agents confirmed the new process to Fox News, revealing that they have been directed to use prosecutorial discretion (PD) to forgo the hours-long process of paperwork required to issue an NTA amid the surge of migrants at the border.

Instead, migrants are registered into the system with biometrical data taken and largely released into the public – in one instance – at a bus station in McAllen, TX. The processing is being done mostly at a temporary outdoor processing site. Border Patrol agents emphasized that this does not apply to unaccompanied children.
During his 2016 Campaign for the Presidency, President Donald J. Trump would recite the words of the classic R & B Song by Al Wilson, "The Snake", an excerpt from which can be found at the beginning of this post.
In the song, a venomous, evil snake begs a kind-hearted beautiful woman to let him come live with her. Once she lets him in, being true to his nature, he poisons her by biting her.
Trump used the song to drive home his point concerning stopping immigration from those countries who sponsor Radical Islamic Terrorism, until our country can come up with a better screening method to prevent what has happening to the U.K.,France, and other European countries with open borders and lax immigration laws.
Europe's "Muslim Problem" is a demonstration as to what happens when a non-indigenous population moves into a country and does not assimilate into the normal traditions and customs of that nation, and, instead, keep their own traditions and laws, separating themselves from the indigenous population in the name of "multiculturalism", the opposite of the "Melting Pot", which helped to form the greatest nation on the face of the Earth, the United States of America.
By bringing "their own country" with them, they have no impetus to become patriotic citizens of their host country, and are therefore, in their own minds, not subject to the laws of that nation, leading to their own internal justification of any acts of violence that they may take against the indigenous citizens of their host country.
Now that Joe Biden has become President of the United States of America, he has opened our borders and canceled the Immigration Policies put into place by President Trump which kept our Sovereign Nation safe. from our enemies.
Just like the "Democratic Socialist" countries in Europe which Joe Biden and the rest of the Far Left Democrat Elite so greatly admire, America, also, is in the process of being bitten by "The Snake".
Until He Comes,
KJ
HELP SUPPORT MY WORK TO BRING YOU THE NEWS YOU NEED TO HEAR.
YOUR CONSIDERATION IS APPRECIATED!
Make a one-time donation
Make a monthly donation
Make a yearly donation
Choose an amount
Or enter a custom amount
$
---
Your contribution is appreciated.
Your contribution is appreciated.
Your contribution is appreciated.
Donate
Donate monthly
Donate yearly