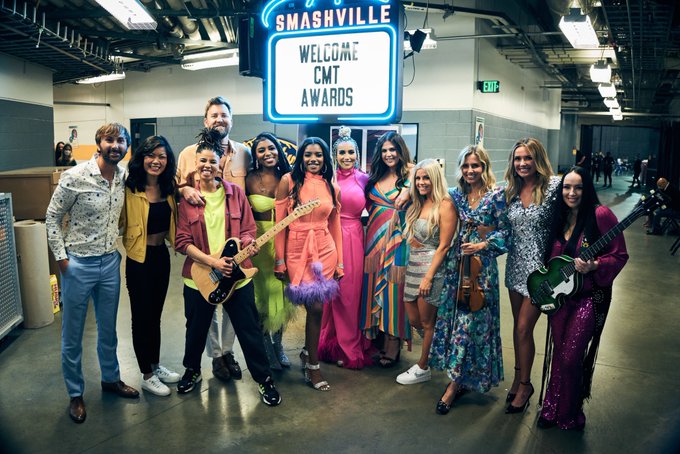 I miss "Hee Haw".
FoxNews.com reports that
The Country Music Television (CMT) Music Awards are here.

The star-studded event kicked off from Nashville, Tenn., Wednesday evening with a performance by Lady A. The trio was joined onstage by Carly Pearce and Lindsay Ell.

Ell stepped in after Gabby Barrett bowed out, citing "personal circumstances."

Cameras then took viewers to a farm where Chris Stapleton performed "Arkansas."

Following the two performances, hosts Kane Brown and Kelsea Ballerini took the stage. "After this year … I'm thirsty for a great party," Brown said.

"This is awesome. First of all, we're back and making music people," Kimberly Schlapman yelled, referring to the pandemic.

"I know you like drinking songs," Karen Fairchild added.

The award was presented by Trace Adkins and Taylor Lewan of the NFL's Tennessee Titans, who poked fun at country music "lingo" by asking Adkins what a dobro, diminished fifth and bluegrass is – refuting the expert's answers with silly jokes.

Lewan told Adkins that a diminished fifth was when a drinker has less whiskey than they expected and that a dobro is a friend who eats too much pizza.

Hailey Whitters then took the stage to sing her hit "Fillin' My Cup." Miranda Lambert also performed a stripped-down version of her hit "Tequila Does." She sang around a campfire alongside Jon Randall and Jack Ingram. Luke Combs also performed.

Linda Martell, who is one of the pioneering Black acts in country music and the first Black woman to perform solo at the Grand Ole Opry, received the CMT Equal Play Award.

Comedian Iliza Shlesinger took the stage next to poke fun at country music lyrics, particularly from some of the genre's top female artists.

She pointed out "violent" lyrics in songs from Carrie Underwood and Lambert, suggesting that a "CSI: Nashville" television show be developed based on songs like "Before He Cheats." The remark was a reference to the long-running CBS drama "CSI" and its spinoffs, which followed crime scene investigators.

The star presented the award for collaborative video of the year, which was given to Chris Young and Brown for their tune "Famous Friends."

The CMT Music Awards will honor acts in country music but will also share its stage with pop and R&B stars, including Gladys Knight, Pink, John Legend, Halsey, H.E.R. and Noah Cyrus.

Knight and Mickey Guyton will perform together and Stapleton and fellow guitar slayer H.E.R. are joining forces onstage at Wednesday's show celebrating the year's best country music videos.

Both Maren Morris and Barrett were originally set to perform at the CMT Awards but backed out.
By the way,, boys and girls.
Did y'all know that CMT encouraged their viewers to wear orange for "Gun Control"?
Needless to say, Country Music Fans, their core audience, are not complying.
SJW has now officially come to Modern "Country" Music.
The East Cost/Left Coast Power Brokers have done to Country Music exactly what they did to Classical Liberalism.
They have jettisoned Traditional American Faith and Values for a shallow hedonistic conflagration of drinkin', cheatin', partyin', and Liberal Politics, changing an entire music genre into something that it never was and was never meant to be.
On this Mississippi June Morning, just a few miles away from Graceland, the home of Elvis Presley, I sit here reflecting on the influence which actual Country Music had on my young life, growing up with my Mother and Daddy.
Every family, to this day, has rituals that they observe like clockwork.
Our Saturday Night Ritual was to eat homemade hamburgers, spaghetti, or crockpot beans off of TV trays and watch "Hee Haw", the syndicated country music variety show, out of Nashville, which starred Buck Owens, Roy Clark, and a "cast of thousands".
The snotty folks up in the Northeast Corridor and Hollyweird never could figure out what made that "hick show", that lasted 25 years, so popular.
After all, it was about traditional American Values, love of God and Country, respecting our American Musical Heritage, and featured talented performers who wrote songs, sang, played their own instruments, loved and appreciated their fans, and actually behaved like average Americans.
Plus, they had the good grace and common sense to keep their private lives, private.
At this time in our country's history, when morality has become relative and ethics situational, we find our hearts crying out to hear something that will soothe our troubled souls.
Instead, we find synthesized, mass-produced Pop Music and "so-called" Country Music, actually more Pop Music, manufactured in New York City (pronounced like they did in the old Pace Salsa Commercials), advocating meaningless one-night stands and encouraging the debasement of the human soul, instead of its ability to rise above any obstacle in its path that might hinder individual achievement.
With all of today's over-produced, under-written Pop and Country-Pop Music flooding the airwaves of both broadcast and satellite radio, Americans my age wonder where all the great Country Songwriters and Performers have gone to?
What is happening to country music reflects a lot about the culture we live in. Artists who actually lived what they sung about like Loretta Lynn, George Jones, Merle Haggard, Tammy Wynette, The Statlers, Jim Ed Brown, Porter Waggoner, Hank Williams, Jr., Randy Travis, Jeannie C. Riley, and Elvis Presley have been replaced by fashion models and wannabe rappers and rock stars.
Please don't get me wrong.
There are still Americans performing country music. Brad Paisley, Alan Jackson, Toby Keith, Reba McEntire, Martina McBride, Clint Black, and Brooks and Dunn,  among others, are still attempting to keep the spirit of Country Music alive.
However, in our culture of fast lives, fast food, and instant gratification, superficiality sells. That's how we got stuck for 8 long years with Barack Hussein Obama (mm mmm mmmm).
It is easier and more profitable for a record company to sell someone who looks good and can sing a little, or to release a country music album made by a fading rock star, than it is for them to market someone who is unbelievably talented and writes their own songs, but who resembles your next door neighbor.
What the heck do Gladys Knight and John Legend have to do with Country Music?
Remember the Bruce Springsteen and Van Morrison Country Music CD fiascos?
No? I don't blame you. I wouldn't admit it, either.
Can you imagine Hank Williams, Sr., Patsy Cline, or Buck Owens trying to get a record deal today?
I'm sorry Mr. Williams. Your vocalization is way too twangy and you drink way too much. "I Saw The Light"? What kind of song is that? A song about redemption? Get real. "I'm So Lonesome I Could Cry"? Who Cares? You're just not marketable.
Ms. Cline, we can't use you. You look like somebody's next door neighbor.

Mr. Owens, what is the "Bakersfield Sound" that you're talking about? That won't get any airtime in New York City. "Act Naturally"? That's a song? Next thing you know, you'll tell me that the Beatles will want to record it.
Now you know why Toby Keith formed his own record label.
The big recording companies like RCA Nashville and Arista are run like any other business. Executives are transferred from other cities and other divisions within the company and are judged to be successful by the amount of revenue they generate.
The decision was made several years ago to turn country music into pop music. Country Music started the transition from Kitty Wells to Taylor Swift and from George Jones to Kid Rock in an effort to claim a bigger share of the CD-buying public.
The disconnect arises when you take a genre that has traditionally sung about God, America, family, and heartache and try to make it about fashionistas, MTV, and shallow people with situational morality and ethics.
Just like the Liberal Politics of the outspoken harpies, the Dixie Chicks, it just doesn't work here in America's Heartland.
As we say in Dixie,
That dog don't hunt.
Alan Jackson and George Strait were prophets.
Nobody saw him running from sixteenth avenue
They never found the fingerprint or the weapon that was used
But someone killed country music, cut out its heart and soul
They got away with murder down on music row

The almighty dollar and the lust for worldwide fame
Slowly killed tradition and for that someone should hang
They all say not guilty, but the evidence will show
That murder was committed down on music row

For the steel guitars no longer cry and fiddles barely play
But drums and rock 'n' roll guitars are mixed up in your face
Old Hank wouldn't have a chance on today's radio
Since they committed murder, down on music row

They thought no one would miss it, once it was dead and gone
They said no one would buy them old drinking and cheating songs
Well I'll still buy 'em
Well there ain't no justice in it and the hard facts are cold
Murder's been committed, down on music row

Oh, the steel guitars no longer cry and you can't hear fiddles play
With drums and rock 'n roll guitars mixed right up in your face
Why, the hag, he wouldn't have a chance on today's radio
Since they committed murder down on music row
Why, they even tell the posse to pack up and go back home
There's been an awful murder down on music row

"Murder on Music Row". George Strait/Alan Jackson, 2000
Please excuse my grammar,
But, what the East and Left Coast Liberals have done to "Country Music" today, ain't just murder.
It's a MASSACRE.
Until He Comes,
KJ
DONATIONS ARE WELCOME AND APPRECIATED.
Make a one-time donation
Make a monthly donation
Make a yearly donation
Choose an amount
Or enter a custom amount
$
---
Your contribution is appreciated.
Your contribution is appreciated.
Your contribution is appreciated.
Donate
Donate monthly
Donate yearly
It appears that the Biden-Harris Administration learned noting from what happened to the Democrats in 2016.
Newsmax.com reports that
In an effort to drive vaccine distribution to "white conservative communities," the Biden administration plans to drive COVID-19 messaging to the NASCAR and country music audiences, the White House announced Monday.

White House press secretary Jen Psaki noted the administration's struggles to reach rural and conservative areas in the country with its vaccine drives, and said it will publishing public service announcements (PSAs) on "The Deadliest Catch," NASCAR, and Country Music Television (CMT).

"Often people think of that as just Black and brown communities and that it's not," Psaki told reporters at the daily press briefing. "As you've noted, also conservative communities, white evangelicals. It's a range of communities around the country.

"We're looking for a range of ways to get directly connected to white conservative communities. We won't always be the best messengers, but we are still trying to meet people where they are, but also empower local organizations."


Although stereotyping white conservative communities might be offensive to some, the White House's stated goal was to strengthen vaccine confidence in people fitting that particular demographic, included the "white conservative communities" in her discussion of the "highest-risk and hardest-hit communities" by COVID-19.

The U.S. Department of Health and Human Services (HHS) announced a $10 billion investment to strengthen "vaccine confidence" in hardest-hit, highest-risk communities back in March, the Daily Caller reported.
So, there is a problem with "White Conservatives", such as myself, not taking the vaccine?
There is a reason for that.
They do not trust the Biden-Harris Administration.
And, I do not blame them.
Joe Biden and Kamala Harris have been lying all of their political careers…and that lying did not stop when they arrived at 1600 Pennsylvania Avenue.
It got worse.
White Conservatives have been called Neanderthals by this President.
That hardly endeared Biden to Americans living in the Heartland.
And then, he lied about Georgia's law designed to allow voters to vote while at the same time making it harder for cheaters to cheat.
Considering that there is not way in H-E-L-L that Joe Biden honestly won the 2020 Presidential Election, I understand why he is against making it harder to cheat in a National Election.
But, I digress…
I understand Conservatives not trusting the vaccine and its contents…especially after hearing stories about people getting sick after their second dose.
I believe that Biden and his Administration are once against showing their ignorance born out of arrogance as regards to what average Americans are like.
These sources, which they have picked to air their Vaccination PSAs on, are television programming which someone who believes that "White Conservatives" are uneducated Rednecks would choose as their marketing vehicle.
Y'know, boys and girls…Liberals are arrogant people who have nothing to be arrogant about.
And, this COVID-19 Vaccination Marketing Campaign demonstrates that perfectly.
Just as it was in 2016, the Far Left Democratic Party's arrogance will be their undoing.
Until He Comes,
KJ
DONALTIONS ARE WELCOME AND APPRECIATED.
Make a one-time donation
Make a monthly donation
Make a yearly donation
Choose an amount
Or enter a custom amount
$
---
Your contribution is appreciated.
Your contribution is appreciated.
Your contribution is appreciated.
Donate
Donate monthly
Donate yearly