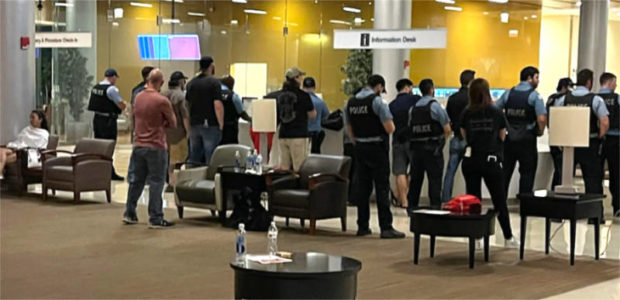 FoxNews.com reports that
More than two dozen Chicago police officers reportedly turned their backs when greeted by Mayor Lori Lightfoot late Saturday at the hospital where an officer remains in critical condition.

Chicago Police Officer Ella French, 29, was shot and killed during a traffic stop Saturday night, while her partner fights for his life at the University of Chicago Medical Center. As Lightfoot visited the hospital about midnight Saturday, about 30 officers turned their backs to her when she approached them on the 7th floor, the Chicago Sun-Times reported Monday morning.

"It looked like it had been choreographed," a source told the outlet.

The male officer's father, who is a retired Chicago cop, also gave the mayor an earful when she tried to talk to him, sources told the Sun-Times. She reportedly remained calm and attentive while he blamed her for what happened.

The mayor's press office provided a statement to Fox News, saying, "In a time of tragedy, emotions run high and that is to be expected."

"The Mayor spoke to a range of officers that tragic night and sensed the overwhelming sentiment was about concern for their fallen colleagues," the statement read. "As the Mayor stated yesterday, now is not the time for divisive and toxic rhetoric or reporting. This is a time for us to come together as a city. We have a common enemy and it is the conditions that breed the violence and the manifestations of violence, namely illegal guns, and gangs. The Mayor is focused on healing the wounds and will reject any and all that try to use this moment to drive further divisions in our city."

Dozens of shooting incidents across Chicago over the weekend left 13 people dead and 73 injured.

In the period beginning Friday at 6 p.m. and ending at midnight Sunday, the Chicago Police Department recorded 54 shooting incidents, statistics show.

Chicago Police Department Supt. David Brown said Sunday that French, her partner and another officer were fired upon after approaching a vehicle with three occupants during a traffic stop in West Englewood on Saturday. Three suspects are currently in police custody.

Lightfoot declared Sunday a day of mourning and called for all flags to be flown at half-staff. In an earlier statement, she told critics of her treatment of police to "just stop."

"There are some who say we do not do enough for the police and that we are handcuffing them from doing their jobs. There are others who say we do too much for the police and that we never hold them accountable for what they do, particularly in Black and brown neighborhoods," Lightfoot said. "All of this, I say, stop. Just stop. This constant strife is not what we need in this moment. Of course, we have to continue the journey to achieve constitutional and accountable policing. That cannot be in debate at this point."

Lightfoot concluded her statement by calling on Chicagoans to "say thank you" when they see a police officer in public, adding, "We owe them a debt of gratitude that we will never truly be able to truly repay."
So, Far Left Democrat Mayor Lori Lightfoot joins Bill di Blasio in having her city's Police Department turn their backs on her.
And, with good reason
For a long time now, Lightfoot has been a proponent of the "Defund the Police" movement.
On 20 May 2019, the freshly elected Chicago mayor, Lori Lightfoot, delivered her inauguration speech to a jubilant audience.

It was imbued with promises of fundamental change – tailored care for blighted neighborhoods, solutions to government corruption and endemic violent crime, an ambitious agenda for tackling deep-rooted faults in the city.

"For years they've said Chicago ain't ready for reform. Well, get ready, because reform is here," Lightfoot, Chicago's first Black woman and openly gay mayor, and a former federal prosecutor, said.

She pledged to reform the Chicago police department, promising to "continue the hard but essential work of forging partnerships between police officers and the community premised on mutual respect, accountability and a recognition that the destinies of police and community are inextricably intertwined".

Police reform seemed like a perfect task for Lightfoot given one of her prior roles of leading the city's special taskforce on police accountability and reform.

She issued a scathing report on the department in 2016, addressing broken trust between police and community and noting: "A painful but necessary reckoning is upon us."
And, look at her now.
The hypocrisy of Far Left Democrats like Mayor Lightfoot would be comical…it did not cause so much tragedy.
Her reluctance to "Back The Blue" has axded gas to the flames of an already out-of-control violent crime problem in the Windy City.
The fatal shooting of Ella French and the wounding of her partner may very well have been the straw that broke the camel's back for the men and women of the Chicago P.D.
I don't blame them for turning their backs on Mayor Lightfoot.
The audacity of the woman to pretend as if she actually respects and backs those whom she and the Chicago Board of Aldermen have been trying to defund is beyond the pale.
Her hypocrisy knows no bounds.
All of the cities and states which have experienced "trouble" with police departments happen to be Blue States with Democrats in charge of State and Municipal Governments.
Instead of relying on traditional police departments and the American System of Law and Order, Democrats like those in the Minneapolis City Council want to have the power to circumvent the American System of Justice because of their issues in the past with it.
The death of ex-convict George Floyd gave them the excuse to attempt to defund police departments.
And now, with a Democrat in office, those who oppose Law and Order are all taking the side of the criminals.
Even the Democrat sitting behind the Oval Office…when he is not taking a nap.
Just like a criminal does not represent an entire race, neither do bad policemen represent an entire nation's Law Enforcement Officers.
They are heroes.
So, please allow me to end today's post with the text of a classic narration by the late, great Paul Harvey titled "What is a Policeman?"
"A policeman is a composite of what all men are, I guess, a mingling of saint and sinner, dust and deity. What that really means is that they are exceptional, they are unusual. They are not commonplace. Buried under the froth is the fact, the fact is that less than one half of one percent of policeman misfit that uniform, and that is a better average than you'd find among clergymen."What is a policeman?

"He of all men is at once the most needed, and the most wanted, a strangely nameless creature who is sir to his face and pig or worse behind his back. He must be such a diplomat that he can settle differences between individuals so that each will think he won, but, if a policeman is neat, he's conceited, if he's careless he's a bum, if he's pleasant, he's a flirt, if he's not, he's a grouch.

"He must make instant decisions that would require months for a lawyer but if he hurries he's careless, if he's deliberate, he's lazy. He must be first to an accident, infallible with diagnoses. He must be able to start breathing, stop bleeding, tie splints and above all, be sure the victim goes home without a limp.

"The police officer must know every gun, draw on the run and hit where it doesn't hurt.

"He must be able to whip two men twice his size and half his age without damaging his uniform, and without being brutal. If you hit him he's a coward, if he hits you, he's a bully. The policeman from a single human hair must be able to describe the crime, the weapon the criminal, and tell you where the criminal is hiding but, if he catches the criminal he's lucky, if he doesn't he's a dunce.

"He runs files and writes reports until his eyes ache to build a case against some felon who will get dealt out by some shameless shamus. The policeman must be a minister, a social worker, a diplomat, a tough guy, and a gentle man. And of course, he'll have to be a genius, because he'll have to feed a family on a policeman's salary."
Until He Comes,
KJ
DONATIONS ARE WELCOME AND APPRECIATED.
Make a one-time donation
Make a monthly donation
Make a yearly donation
Choose an amount
Or enter a custom amount
$
---
Your contribution is appreciated.
Your contribution is appreciated.
Your contribution is appreciated.
Donate
Donate monthly
Donate yearly